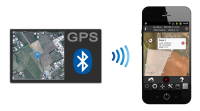 With the release of new versions of the A2 and A2 + for Android, it is now possible to connect an external Bluetooth GPS to improve the geolocation accuracy.
The Bluetooth external GPS takes over and provided to the application measures with an accuracy of up to 2m depending on the GPS model.
The connection setup is done from the settings menu.