Loc'All - La géolocalisation pour tous!
Application Android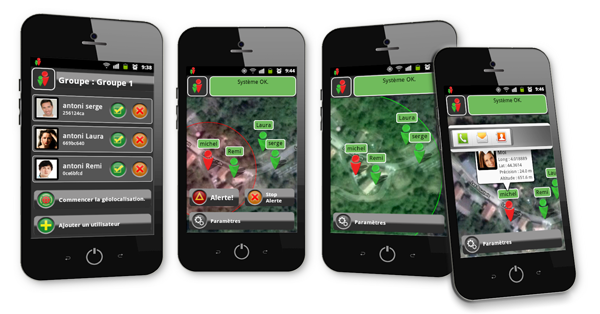 Loc'All est une application permettant la géolocalisation d'une ou de plusieurs personnes (votre famille, vos employés, votre flotte de véhicules, un groupe de sportifs, un groupe d'amis, des chasseurs pendant une battue, etc. ) par GPS. Elle permet notamment de visualiser en temps réel la position de toutes les personnes.
Développée principalement pour la surveillance des enfants, Loc'All permet de définir une zone de sécurité autour de vous et ainsi de vous prévenir si un utilisateur en sort (avertissement sonore).
La visualisation d'un groupe s'effectue à partir de Google Map en mode plan ou satellite. Ceci permet une utilisation aussi bien rapprochée que lointaine (monde entier). Une grille circulaire peut être affichée à l'écran de façon à mieux évaluer les distances entre vous et les autres utilisateurs.
Le nombre de groupe est illimité. Le nombre de personne dans un groupe est aussi illimité.
Dans un groupe, chaque utilisateur est défini par son nom, son prénom, son adresse mail et sa photo (optionnel). Ainsi, durant la géolocalisation, chaque utilisateur est identifiable et localisable précisément (affichage de sa latitude et de sa longitude, son altitude, sa précision de localisation et la distance qui vous sépare).
Pendant la localisation, il est possible de correspondre avec chaque utilisateur par mail, téléphone, skype, sms ect.
La carte de localisation peut être centrée automatiquement sur l'ensemble des utilisateurs d'un groupe ou bien sur votre position.
Afin d'économiser la batterie du mobile, Loc'All peut fonctionner en tâche de fond avec l'écran éteint.
Voir dans GooglePlay
English
Spanish
Loc'All is an application allowing the geolocation of a group of persons (your family, your employees, your car fleet, a group of sportsmen, a group of friends, hunters during a hunt, etc.) by GPS. It allows you to view the live position of all users.

Developed mainly for monitoring children, Loc'All allows to define a safety zone around you and so to warm you if a user exits (sound warning).

The visualization of a group is made from Google Map in mode plan or satellite. This allows use of both the earliest distant (worldwide). A circular grid can be displayed on the screen in order to better assess the distances between you and other users.

The number of groups is unlimited. The number of people in a group is also unlimited.


In a group, each user is defined by its name, first name, email address and their photo (optional). Thus, during the geolocation, each user is identified and located precisely (display latitude and longitude of its altitude, precision geolocation and your distance).

For geolocation, it is possible to correspond with each user by mail, phone, skype, sms ect.


The geolocation map can be centered automatically on all users in a group or on your position.

To save battery mobile Loc'All can run in the background with the screen off.
Requires Android
2.3 and up
Loc'All es una aplicación para geotagging de un grupo de personas (su familia, sus empleados, su flota, un grupo de atletas, un grupo de amigos, cazadores durante una cacería, etc) .. Le permite ver la posición en directo de todos los usuarios.

Desarrollado principalmente para el seguimiento de los niños Loc'All para definir una zona de seguridad alrededor de usted y para que usted sepa si un usuario sale (buzzer).

La visualización se lleva a cabo por un grupo de Google Maps en el mapa o satélite. Esto permite el uso tanto de la. Primera distante (mundial) Una rejilla circular se puede mostrar en la pantalla con el fin de evaluar mejor las distancias entre usted y otros usuarios.

El número de grupos es ilimitado. El número de personas en un grupo también es ilimitada.


En un grupo, cada usuario se define por su nombre, apellido, dirección de correo electrónico y su foto (opcional). Así, durante la geolocalización, cada usuario se identifica y sitúa precisamente (latitud y longitud de visualización de su altitud, ubicación geográfica y precisión la distancia).

Para geolocalización, es posible que se correspondan con cada usuario por correo, teléfono, skype, sms etc.


El mapa de geolocalización se puede centrar automáticamente a todos los usuarios en un grupo o en su posición.

Para guardar Loc'All móvil de la batería se puede ejecutar en segundo plano con la pantalla apagada.
Requiere Android
2.3 y versiones superiores
Les Options
- Mode d'affichage de la carte (plan ou satellite) avec possibilité d'affichage d'une grille circulaire.
- 6 sonneries d'alertes différentes en mode "zone de sécurité".
- Centrage automatique sur l'ensemble du groupe en cours de localisation ou sur votre position.
- Mode économie de batterie avec une utilisation en tâche de fond (écran éteint).
- Possibilité de garder l'écran de localisation (carte) toujours allumé.
Loc'All existe en version gratuite (Loc'All light) pour une utilisation sans carte. Cette version est principalement destinée aux utilisateurs d'un groupe n'ayant pas besoin de connaître la position des autres utilisateurs. Elle permet uniquement de ce faire géolocaliser par les autres personnes du groupe. Ceci évite que toutes les personnes du groupe doivent acquérir la version payante.
Disponible pour Iphone / Ipad
English
Spanish
Options
- The display mode map (map or satellite) with the possibility of displaying a circular grid.
- 6 different alert tones in "security zone".
- Automatic centering on the group being geolocation or your position.
- Battery saving mode with use background (screen off).
- Option to keep the screen geolocation (map) always on.

Loc'All available in free version (Loc'All light) for use without a map. This version is primarily intended for users in a group do not need to know the position of other users. It only allows it to geotag by others in the group. This prevents all persons in the group must buy the full version.
Opciones
- La visualización de mapa de modo (mapa o satélite) con la posibilidad de visualizar una rejilla circular.
- 6 diferentes tonos de alerta en "zona de seguridad".
- Centrado automático en el grupo de geolocalización ser o su posición.
- Modo de ahorro de batería con el fondo de uso (fuera de pantalla).
- Opción para mantener la geolocalización pantalla (mapa) siempre encendido.

Loc'All disponible en la versión gratuita (Loc'All Light) para su uso sin un mapa. Esta versión está destinada principalmente para usuarios de un grupo no es necesario conocer la posición de otros usuarios. Sólo se permite geolocalizar por otros en el grupo. Esto evita que todas las personas en el grupo debe comprar la versión completa.
Existe aussi pour Iphone et Ipad
André nexus google - Très bonne application pour connaître la position de ses enfants avec leur accord ou de ses amis merci au développeur
★★★★★ Galaxy Nexus (maguro)
Bonne appli Fonctionne bien. La zone de securité est une option tres apreciable.
★★★★ Eric Tales
Nos dernières réalisations