M3 - Mesure de Surface et de Volume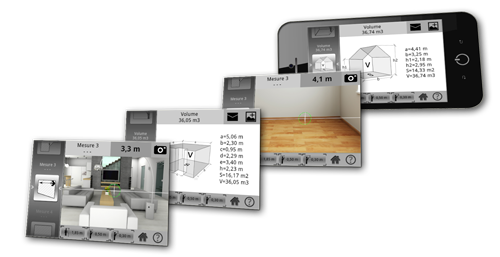 M3 est une application permettant de mesurer et de calculer, avec l'appareil photo de votre mobile, la surface et le volume d'une pièce d'une maison ou d'un appartement.
Que vous soyez un particulier ou un professionnel (architecte, agence immobilière, maçon, artisan), M3 vous permet d'évaluer rapidement la surface et le volume de tout habitat.
Les résultats de surface et de volume sont obtenus par des prises de mesures successives. L'application vous guide tout au long de son utilisation en vous indiquant les mesures à effectuer.
Voir dans GooglePlay
English
Spanish
Português
Italiano
Deutsch
M3 is an application to measure and to calculate, with the camera of your mobile, the area and the volume of a room.
Whether you are an individual or a professional (architect, real estate agent, builder, architect), M3 allows you to quickly evaluate the surface and the volume of homes.
The results of surface and volume are obtained by taking successive measurements. The application guides you throughout its use by showing you all the measures to perform.
Requires Android
2.3 and up
M3 es una aplicación para medir, con la cámara de su área móvil, y el volumen de una habitación.
Si usted es un particular o un profesional (arquitecto, agente inmobiliario, constructor, arquitecto), M3 le permite evaluar rápidamente la superficie y el volumen de viviendas.
Los resultados de superficie y el volumen se obtienen tomando mediciones sucesivas. La aplicación le guía a lo largo de su uso, mostrando que los pasos a realizar.
Requiere Android
2.3 y versiones superiores
M3 é um aplicativo para medir, com a câmera de sua área, móvel e volume de um quarto.
Se você é um indivíduo ou um profissional (arquiteto, agente imobiliário, construtor, arquiteto), M3 permite avaliar rapidamente a superfície eo volume de casas.
Os valores de área de superfície e volume são obtidos por medições sucessivas. O aplicativo guia você ao longo de sua utilização, mostrando-lhe os passos para executar.
Requer Android
2.3 ou superior
M3 è un'applicazione per misurare, con la fotocamera del cellulare, l'area e il volume di una abitazione.
Che tu sia un privato o un professionista (architetto, agente immobiliare, costruttore, architetto), M3 permette di valutare rapidamente la superficie e il volume delle case.
I risultati di area superficiale e volume sono ottenuti prendendo misure successive. L'applicazione guida l'utente durante il suo utilizzo da parte che vi mostra i passaggi da eseguire.
È necessario Android
2.3 e superiori
M3 ist eine Applikation, die Ihnen ermöglicht, die Oberfläche und das Volumen eines Raumes mit dem Fotoapparat Ihres Handys zu messen.
Egal, ob Sie eine Einzelperson oder eine professionelle (Architekt, Immobilienmakler, Baumeister, Architekten) sind, ermöglicht es Ihnen, schnell M3 bewerten Sie die Oberfläche und das Volumen der Häuser.
Die Resultate der Oberfläche und des Volumens werden durch sukzessives Annehmen von Messungen erhalten. Die Applikation führt Sie durch dessen Anwendungen, in dem Sie Ihnen alle Ausführungen der Messungen zeigt.
Erforderliche Android-Version:
2.3 oder höher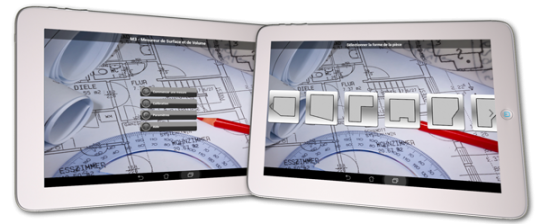 Caratéristiques
Plusieurs unités de mesures sont disponibles :
- Mesure de distance : Mètre, Inch, Feet, Yard
- Mesure de surface : m2, sq ft, sq yd
- Mesure de volume : m3, ft3, yd3
M3 vous permet de mémoriser et d'envoyer par mail les différents résultats.
M3 est dotée d'une aide interactive qui vous permet de vous guider tout au long des mesures. Vous pouvez à tout moment désactiver entièrement ou partiellement cette assistance. La réactivation de l'aide en ligne est effectuée à partir du menu principal "Paramétrage".
Application Multilangues : Français, Anglais, Allemand, Espagnole, Portugaise, Italienne.
Tablettes supportées.
English
Spanish
Português
Italiano
Deutsch
Features
Several units of measurement are available:
Distance Measurement: Meter, Inch, Feet, Yard
Measurement of surface: m2 sq ft, sq yd
Measurement of volume: m3 ft3, yd3
M3 allows you to store and send by email different results.
M3 is equipped with an interactive tutorial that allows you to guide you through the measures. You can disable it at any time fully or partially. The reactivation of the help is done from the main menu "Settings".
Application Multilingual: English, French, German, Spanish, Portuguese, Italian.
Tablet Ready
Especificaciones
Varias unidades de medida están disponibles:
- Medición de distancia: Metro, Inch, Feet, Yarda
- Medición de superficie: m2, sq ft, sq yd
- Medición de volumen: m3, ft3, yd3
M3 le permite almacenar y enviar correos electrónicos a diferentes resultados.
M3 está equipado con un tutorial interactivo que le permite guiarlo a través de los pasos. Usted puede en cualquier momento desactivar completa o parcialmente la Asistencia. La reactivación de la ayuda en línea se realiza desde el menú principal "Ajustes".
Aplicación Multilingüe: Inglés, francés, alemán, español, portugués, italiano.
Especificações
Várias unidades de medição estão disponíveis:
- Medição de Distância: Metro, Inch, Feet, Iarda
- Medição de Superfície: m2, sq ft, sq yd
- Medição de Volume: m3, ft3, ​​yd3
M3 permite armazenar e enviar e-mails por resultados diferentes.
M3 é equipado com um tutorial interativo que permite que você para guiá-lo através dos passos. Você pode, a qualquer momento, total ou parcialmente desativar o asistance. Reativação da ajuda on-line é feito a partir do menu principal "Configurações".
Aplicação multilingue: Inglês, Francês, Alemão, Espanhol, Português, Italiano.
Specificazioni
Diverse unità di misura sono disponibili:
- Misura della Distanza: Metro, Inch, Feet, Iarda
- Misura della Superficie: m2, sq ft, sq yd
- Misura del Volume: m3, ft3, ​​yd3
M3 consente di memorizzare e inviare e-mail da risultati diversi.
M3 è dotato di un tutorial interattivo che ti permette di guidare l'utente attraverso i passi. È possibile in qualsiasi momento, in tutto o in parte disabilitare il asistance. La riattivazione della guida in linea è fatta dal menu principale "Impostazioni".
Applicazione multilingue: inglese, francese, tedesco, spagnolo, portoghese, italiano.
Technische Daten
Es sind mehrere Masseinheiten verfügbar:
- Einheit der Distanz: Meter, Inch, Feet, Yard
- Einheit der Oberfläche: m2, sq ft, sq yd
- Einheit des Volumens: m3, ft3, yd3
M3 ermöglicht Ihnen, verschiedene Resultate zu speichern und per e-mail zu verschicken.
M3 ist mit einer interaktiven Hilfe ausgestattet, die es Ihnen ermöglicht, Sie durch alle Messungen zu führen. Sie können diese Hilfe jederzeit ganz oder teilweise deaktivieren. Die Wiederaufnahme der online Hilfe wird vom Hauptmenü "Einstellungen" aus getätigt.
Anwendung Multilingual: Englisch, Französisch, Deutsch, Spanisch, Portugiesisch, Italienisch.

Aide pour utiliser l'application
André Galaxie Nexus - Très bonne application grand service pour mes petits travaux d'intérieur Merci au développeur
★★★★★ Version de l'application : 1.3 Galaxy Nexus (maguro)
Un utilisateur Google le 9 nov. 2012 à 08:29
Bon Original. Ca fonctionne bien... Une premiere dans la mesure avec notre petit droide !!!
★★★★★ Galaxy Ace (GT-S5830)
Un utilisateur Google le 20 sept. 2012 à 16:44
Nos dernières réalisations